What is VictorChat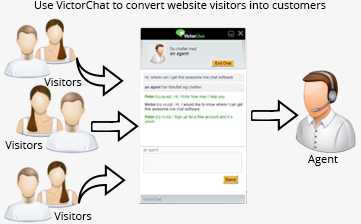 Non technical explanation
VictorChat is a chat solution, which makes it posible to live chat with online visitors on your website, blog and webshop. Simply paste in a small piece of HTML code and you are up and running in no time. Or have us make the setup for free!
Technical explanation
VictorChat is built on SAAS (Software As A Service), which means that all hardcode is laying on
our server. With the exception of the small piece of HTML code, copied/pasted into your website, blog or webshop to display the chat window.
How VictorChat works
Hover the mouse over the below icons, to read how VictorChat works.
Meet Our Team
This is how long we have been working on VictorChat,
and we ain't done making great functions for you yet ;-)
Peter Serop

Founder & CEO

Pawan

Hardcore developer

Mette Vallentin

Quality assurance manager




Support